About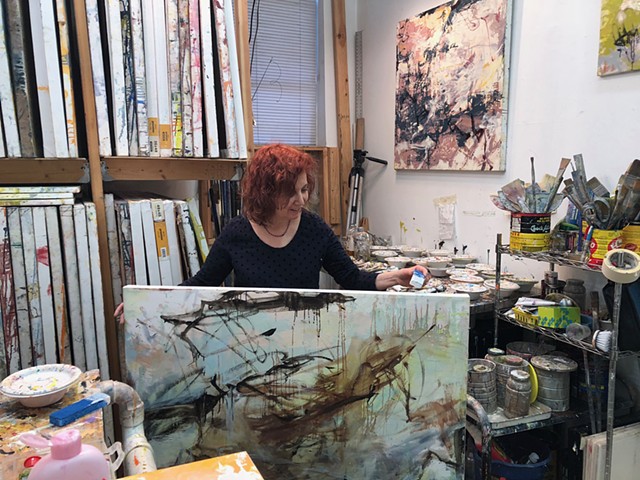 Robin Feld's work synthesizes the movement, flow, energy and geometry obtained through external and internal observation. Her work references 1950s abstraction as seen through the lens of contemporary landscape painting and personal vision. More specifically, Feld looks to the crisscrossing and tangles found in nature, the juxtapositions of line, shape, and form and the geometry it generates, as a structural jumping off point for working with balance, motion and fluidity within the framework of a two-dimensional surface.
Feld uses observational watercolor sketches, photography and automatic drawing as source material. Through the abandon of the big sweeping gesture or the bucket of poured paint coupled with more intimate calligraphic marks and descriptive line she seeks to evoke the sensation of being human in nature.
Feld works out of her studio in Brooklyn, New York. Her work has been shown at the Painting Center in New York, Drawing Rooms in Jersey City, Kent State University, Curate NYC, Art Fair 14C, Paramount Gallery at LIU, and the Monmouth Museum. She was recently featured in Jason McCoy Gallery's online Drawing Challenges XV & XVI. Feld attended the High School of Music and Art (LaGuardia High School) in Manhattan, received her BFA at the City College of New York, and studied at the Art Students League.